Sending a cheque from one Euro zone country to another is frustrating and very expensive…don't bother - Philip Suter
The Euro has been in existence for over ten years now in many member countries and if you try and send a cheque drawn on a bank from member country and bank it in another be prepared for a long delay and very high costs.
I needed to transfer some funds from Ireland to France and posted a cheque drawn on an Irish Building Society to my bank in Juan-Les-Pins, France. I posted this by signed for delivery as I wanted to ensure it arrived there ok. A few days after sending the cheque I went online and there was no credit. My first reaction was that they had not received it.
The bank my wife and I use are not the best at communicating and a couple of months earlier they had written to say that one of our new bank cards was waiting for collection at the local branch. We wrote to them twice requesting it be posted as we are not resident in France and so rather difficult to collect and the third copy went with the cheque we wanted banking. Whenever we are in the area, you can find that they are not always open, it could be a Monday and because they work Saturday mornings they close on a Monday, or arriving just when they close for a long lunch hour on the remaining days of the week that they actually open on.
When I had posted this cheque, I had also enclosed yet a third copy of the letter requesting the card be posted. As I was concerned that the cheque had gone missing, I contacted the Irish Building Society who immediately posted out a replacement cheque to a relative who could bank it at the local branch. I t was lodged on the 3rd September. We were also in France at that time and decided to call into the branch to see if they had the bank card, yes they had it was in a desk drawer in an addressed envelope waiting to be posted, I have no idea how long it had been there, but had we not gone in, would probably still be there now. When we got back home from France, in our post was a second bank card that someone had decided to post!
On the 25th September the funds were finally credited to our account, three weeks after they had been put in and being charged over €94.59 for processing the cheque. I contacted a major French bank that has a department specialising for English speaking clients. They told me that "The currency has no bearing on a foreign cheque. This is an International or Foreign cheque and therefore follows International procedures. It can take 4-6 weeks on occasions. Cheques get sent back to their bank of origin and it then depends on that banks procedures, security checks etc. before they send the funds back, then the funds are cleared."
Well so much for having one currency for several countries when it comes to trying paying in a cheque from another member county within the Euro zone. Unfortunately the Irish Building Society can only make payments by cheque, which is a somewhat old fashioned method as we approach 2010. They use a clearing bank for their payments, however with the way technology is these days should really have a more advanced system.
©Philip Suter jml Property Services October 2009
See also: Accepting payments in euros can be expensive
Other pages to see:
Also:
_________________________________________________


Do you own a Holiday Home in the South of France or Monaco? Is the insurance policy written in English? Find out more Here


Enjoy your stay in the South of France ....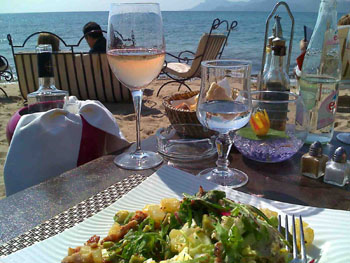 eat - drink -stay & wake up on the Riviera
________________________________________________
See site Map for statutory information about jml Property Services Here