Property and Travel News for the South of France (including Tips and Topics in the South of France and Monaco)
Three great sources of local area information and news -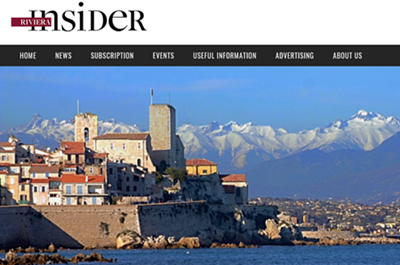 and

and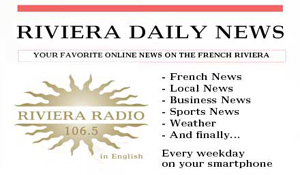 ------------------------------------------------------
Holiday rentals -Riviera Radio Daily News Friday 18 January 2019 - The mayor of Nice, Christian Estrosi has announced plans to review the regulations for holiday rentals in the region, such as Airbnb. New measures will see the introduction of agents carrying out regular checks to track down fraudsters.
Currently holiday rentals are limited to 120 days a year the new measures hope to end "unfair competition" .Other mayors have already introduced similar measures in other major cities such as Paris, Berlin and Barcelona.Back to top
Nice International Airport - Riviera Radio Daily News Tuesday 8 January 2019 In an interview on French radio the CEO of the Airports of the Côte d'Azur Dominique Thillaud has announced that the second largest airport in France Nice International Airport has produced record figures with 13.85 million passengers in 2018 an increase of 4.1%. Nice Airport is connected to 30 countries during the winter period and soon plans to open a direct line with China. Back to top
Motorists -Riviera Radio Daily News Friday 28 December 2018 Several changes will come into force for motorists in France on the first of January. Although there is good news with the scrapping of the fuel tax as a result of the yellow vests protests, some owners of the mist polluting vehicles will insurance costs rise.
Owners of small, less polluting cars will receive supplementary tax relief depending on the distance driven to work and state aid for those on more modest incomes who wish to convert to environmentally friendly vehicles will double from 2,000 to 4,000 euros. Young drivers will be able to reduce the length of their probationary period by taking a fee based 7 hour advanced driving course but everyone will pay more to use the motorway network with an average price increase of 1.9 percent.| Back to top
Road offences between Italy and France - Riviera Radio Daily News reported on the 8th January 2016 that a new measure has been introduced concerning road offences in France and Italy. Both countries will work together and as of the 1st of January all French motorists who commit a driving offence in Italy will receive a fine by post at their French address. The same will apply to any Italian motorists fined in France. Back to top
Cote d'Azur south of France featured in Staysure Insurance Lifestyle
Staysure Insurance are featuring destination to have your holiday homes in. The first is the Côte d'Azur in the south of France. The picturesque port on the left looks like Villefranche sur Mer just outside Nice See article Here June 2013 | Back to top
New boss for Nice Côte d'Azur Airport Group
43 year old Dominique Thillaud is to become the new boss at Nice Côte d'Azur Airport. He replaces outgoing Herve de Place who retired in September after being at the airport for over 40 years. Monsieur De Place was behind the transformation of a single runway with one terminal airport into what it is today and France's number two airport.The new person in charge started his management career with BNP Paribas in Brussels and then moved to PricewaterhouseCoopers. In 2002 he became Director of Operations at SNCF (French rail). January 2013 | Back to top
Place du Casino, Monaco to become a building site in January 2014
The Government in Monaco is going to spend a fair amount of euros modernising the Hôtel de Paris and the Sporting d'Hiver which will be demolished starting in January 2014. Work will last around four years. Should make some interesting shots on the F1 grand prix coverage.January 2013 | Back to top
Breathalyser kits now obligatory in cars in France
As of the 1st July 2012, each vehicle must now be equipped with a chemical or electronic breathalyser, so drivers can check that the legal limit (0.5 g per liter of blood or 0.25 mg / l of breath) has not been exceeded. Excess alcohol in 2011 remained the leading cause of death on the roads of France. Motorists will have to tidy in their glove box to find a small place. As of July 1, breathalyzers are indeed mandatory in vehicles. Launched by the former government, this measure aims at cultivating new habits of self among road users. Are concerned, motorists in the broad sense as drivers of electric vehicles without a license will also need to get a breathalyzer. Find out more by reading the The Riviera Reporter report Here July 2012 | Back to top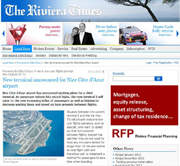 Nice Airport to expand with third passenger terminal in 2018
Nice Airport which is the second busiest airport in France is expanding again. Extensions were completed last year to Terminal 2 and a brand new rental car terminal was opened last summer. The proposed completion date will be in 2018 and it will not be as luxurious as terminals one and two being that it will be for the low cost market like easyJet Find out more on this Here February 2012 | Back to top
More flooding in the South of France kills 3
Following the G20 Summit in Cannes the weather turned bad and three deaths have so far been reported in the neighbouring département the Var. Apparently a homeless German was found dead on Saturday 5th November and a couple aged in their 70s from Bagnols-en-Forêt were found dead in the early hours of Sunday 6th November. - Find out more on this Here November 2011 | Back to top
G20 Summit in Cannes - Described as The Cannes debt festival - the biggest event in the French resort's history by the UK's Independent newspaper with similar catch phrases in other European newspapers.It is on between the 3rd to 4th November 2011, although some European leaders met on the eve of the summit to discuss the Eurozone crisis and the Greek bailout. No doubt this time has not been a good time to land or depart at Nice Airport or to visit Cannes.- November 2011 | Back to top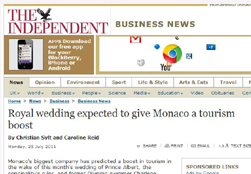 Royal Wedding is expected to give Monaco a Tourism boost -Monaco's biggest company has predicted a boost in tourism following the wedding of Prince Albert and Charlene Wittstock earlier in July. The 147 year old company - Société des Bais de Mer (SBM) owns the Casino de Monte-Carlo and the state's most historic hotels, including the world-renowned Hôtel de Paris which counts Naomi Campbell and Sean Connery among its guests. It has a monopoly concession to run the casinos in Monaco until 2027 and owns five of them, as well as 32 restaurants, an 18-hole golf course, opera house, tennis club and several of the Riviera's hippest nightclubs. Find out more on this Here Source The Independent - July 2011 | Back to top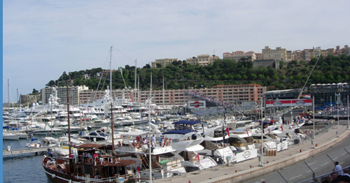 Visit Monte Carlo without going bust- What can a single euro buy you in Monaco? Simon Calder explores Europe's most glamorous principality on a pocketful of small change
Can you visit Monaco "on the cheap"? This is what The UK's Independent newspaper's travel writer Simin Calder wrote about on Saturday. His entertaining feature can be found Here July 2011 | Back to top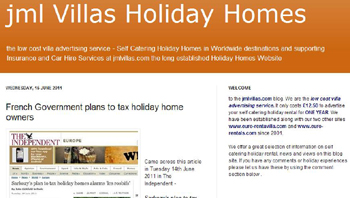 French Government drops plans to tax holiday home owners
Following the controvesal proposal to tax holiday home owners in France (see below), A meeting was held on the weekend of the 18th / 19th June -11 with President Nicolas Sarkozy, Budget Minister François Baroin and senators representing French nationals living abroad, the proposed tax was dropped.According to a report in Citywire Money "The decision to scrap the tax may well have rested on the fact that French expats – who would also have been subject to the new tax – will for the first time have a chance to vote next year in the presidential elections. Sarkozy is currently seeking a second term in office". July 2011 | Back to top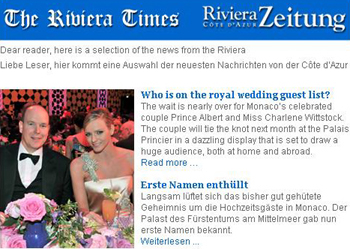 Who is on the royal wedding in Monoaco guest list in July 2011?
The wait is nearly over for Monaco's celebrated couple Prince Albert and Miss Charlene Wittstock. The couple will tie the knot next month at the Palais Princier in a dazzling display that is set to draw a huge audience, both at home and abroad. The wedding has 500 plus A-list guests attending including fellow European royals Prince Felipe of Spain and Princess Victoria of Sweden.Celebrities who have an official link with the Monegasque royal family will also be present, each invited to attend with their spouse or partner. They include: Karl Lagerfeld, creative director for Chanel and a close friend of Princess Caroline of Hanover; Andrea Bocelli, the celebrated Italian opera star; Italian pop/rock singer Umberto Tozzi; President of the International Olympics Commission, Jacque Rogge, and many more.Meanwhile, the Office des Emissions de Timbres-Poste de Monaco has created commemorative stamps to celebrate the royal marriage. he stamps feature the couple's official photos, including the popular shot of Prince Albert holding hands with his princess-to-be. Find out more on this Here Source Monaco Times - June 2011 | Back to top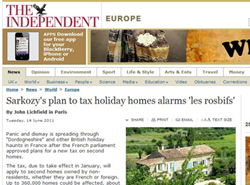 French Government plans to tax holiday home owners
Apparently this tax, due to take effect in January 2012, will apply to second homes owned by non-residents, whether they are French or foreign! Up to 360,000 homes could be affected, about half of which are thought to be owned by British nationals. Under the new law, the taxman would charge 20 per cent of the theoretical annual "rental value" of a second home, whether it is rented out or not. Homes rented out full-time will be exempt, since their owners are already assumed to pay sufficient French tax. Holiday home owners currently pay domestic property taxes - Taxe d'habitation (if applicable TV Licence include - L'audiovisuel public) and Taxes foncieres. Find out more on this Here June 2011 | Back to top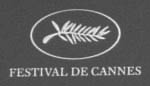 The Cannes Film Festival - le Festival international du film de Cannes is now on.
The 64th Cannes film festival started on Wednesday 11th May and runs to Sunday 22nd May. Find out more on this Here May 2011 | Back to top
Only two months to go till the wedding of Prince Albert 11 of Monaco to Charlene Wittstock
After last Fridays wdding ceremonies in the UK when Prince William married Kate Middleton, it is now only two months away when His Serene Highness Prince Albert II of Monaco marries Charlene Wittstock on Saturday 2nd July 2011. May 2011 | Back to top
Money Off South of France Car Hire

Tourists and travellers able to save on vehicle rentals in Nice thanks to leading price comparator service. Exploring the south of France by rental car has just been made more affordable for tourists thanks to leading online car hire price comparator Carrentals.co.uk. The award-winning website has introduced its latest deals which are designed to help business or pleasure travellers heading to the French city of Nice to save money this summer. More on this Here April 2011 | Back to top
Holiday Autos warns that prices could rise by up to 30% in the summer of 2011

International car hire broker Holiday Autos that car hire prices could rise by as much as 30% this summer due to global car shortages brought on by the crisis in Japan. Cars used in France, mainly Peugeots, rely heavily on car parts. More on this Here April 2011 | Back to top
After 5 TV Helps Boost Local Businesses in the South of France through a New Travel Show

This May, After 5 TV will be shooting on location in the South of France for a new travel show aptly named After 5 TV Destinations. The series is driven to discover exciting touristic destinations through 5 key elements: travel, wine, gastronomy, cultural life and events.One of the episodes, After 5 TV Destinations: South of France promises to take pleasure-seeking viewers from all over the globe on an indulgent motorcycle ride in St. Tropez, a sight and sound tour of Festival de Cannes, a bustling walk around a French outdoor market in Provence, and more. The series will start airing Summer of 2011 so as to inspire holiday travelers from across Europe and abroad to visit the region and patronize the establishments featured in the episode More on this Here April 2011 | Back to top
Nice Jazz festival: Headlining artists on 2011 line up revealed
In a press conference this week, Mayor of Nice, Christian Estrosi, has revealed that the city's celebrated jazz festival will be dedicated in 2011 to the legendary trumpeter Miles Davis. The festival takes place from the 8th to the 12th of July. After an initial buzz that global superstar Prince was to take over the directorship of the festival, it was announced in January that the event's new Artistic Director was in fact Harry Lapp, founder of Strasbourg Jazz Festival and previously in charge of the programme at Jazz à Juan. More on this Here March 2011 | Back to top
Rent an eco car in Monaco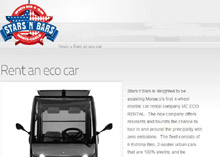 On the Stars'n'Bars website there is this page - "Rent an Eco car" - Stars'n'Bars is delighted to be assisting Monaco's first 4-wheel electric car rental company MC ECO RENTAL. The new company offers residents and tourists the chance to tour in and around the principality with zero emissions. More on this Here February 2011 | Back to top
Promenade des Irlandais becomes the Promenade des Anglais in Nice once again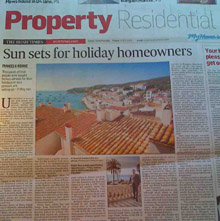 The Irish Times property section on Thursday 10th February had a headline "Sun sets for holiday homeowners" - Thousands of Irish people who bought homes abroad, for their holidays or as a pension, are selling up – if they can. The report featured Nice Estate Agent Kirkor Ajderhanyan a director of Agence 107 Promenade, an agency which specialises in selling properties with sea views on Nice's seafront. He said "There were so many of them that we used to call it the Promenade des Irlandais at the time. But most will make an average gain of 25 to 30 per cent". More on this Here February 2011 | Back to top
More flooding in the south of France in October 2010
Heavy rain has hit the south of France again this weekend. Today 1st November, Nice Matin reported that 50 inhabitants at Villeneuve-Loubet were evacuated because of the risk of flooding. Part of Cagnes sur Mer was also affected. The A8 exit for Villeneuve Loubet (47) has had to be closed More on this Here November 2010 | Back to top
Nomad of Antibes

The Riviera Times is running a story on line entitled "Nomad roams no more" Rarely has a sculpture been so embraced and so enjoyed, as Spanish artist Jaume Plensa's 'Nomad', now permanently installed on the ramparts of old Antibes. More on this Here November 2010 | Back to top
Speed limits in France: Don't put yourself in the frame Stick to the speed limit in France, warns Chris Dearden of The Independent – foreign motorists are being targeted - October 2010 "a gendarme on his BMW motorbike overtook us and gestured for us to follow. Half a mile later, we turned in and parked alongside a dozen other cars, all caught in the same speed trap -My friend's on-the-spot fine had been €90, but a Dutch Audi driver had been relieved of €700, courtesy of a nearby cash machine. Working on an average fine of, say, €250, and 20 cars an hour, 10 hours a day, that speed trap could be pulling in €18m a year.
The French are un-ashamedly targeting foreign drivers with mobile speed traps along with instant on-the-spot penalties. And the penalties don't stop at relieving you of some of your holiday money, either. If you are 50kmh over the limit, your licence will be confiscated, posted back to Britain at some indeterminate date in the future, and your six-month ban on French roads starts immediately. Just in case your reaction to this possibility is to turn on your UK legal radar detector as you drive off the ferry, you need to remember that if caught, its use in France will bring about immediate arrest." Read the full article here October 2010 | Back to top
€150 cash fine for going over red light in Monaco and €60 for going down wrong way on one way street
Richard Sharpe was driving out of the Mone Carlo casino carpark and heading for the A8 autoroute. He misread the road and went through a red light. He was pulled over by a policeman who demanded an on the spot fine of one hundred and fifty euros in cash. He was told that unless he paid the money immediately the car would be impounded and he and his wife would not be allowed to leave Monaco. They had to go to an ATM to obtain the cash and pay it over. A receipt was issued. Another reader of The Independent Craig Brand reported in the 29th May 10 edition of Independent Traveller that after watching the Monaco Grand Prix, he left to go to Nice. He came to a roundabout and was confused by the road signs and ended up going down a one way street. Police immediatelt pounced and issued a €60 fine. Take great care when driving in Monaco. It could prove rather expensive. May 2010 | Back to top
68th Monaco Grand Prix 2010
The Grand Prix circus rolled into town on Monday, straight from the Spanish event which was won in fine style by the Aussie Mark Webber for Red Bull Racing. Petrol heads have four days of (almost) non-stop action ahead of them starting today in the streets of Monaco, culminating with the Formula One race on Sunday. More on this Here May 2010 | Back to top
Volcanic Ash closes airports in France, Portugal, Italy, Ireland, Switzerland and Spain
According to online reports on the 8th and 9th May European air traffic faces growing disruption again, with a cloud of ash spewing from an Icelandic volcano affecting flights in Spain, France and Portugal. Hundreds of flights were cancelled on Saturday, while many trans-Atlantic services were delayed as they skirted the plume of debris from the Eyjafjoell volcano in Iceland, which plunged air travel across the continent into chaos last month. More on this Here May 2010 | Back to top
Freak waves cause havoc in the Nice area on the 4th May 2010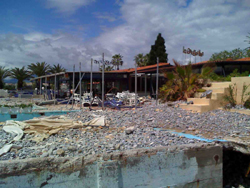 Massive waves have hit the French Riviera between Nice and Cannes causing major material damage to the densely-populated coast on Tuesday afternoon 4th May. The freak weather struck as the region is preparing to host the 63rd Cannes Film Festival. In Cannes, some 20 restaurants were damaged and several cars overturned. The picture above is of a restaurant - la Gougouline at Cagnes sur Mer. The restaurant was severly damaged in the bad weather on the 1st January this year. More information Here May 2010 |Back to top |
Cannes Film Festival 2010 update
Kristin Scott Thomas will open the 63rd edition of the Festival on May 12th by inviting the President Tim Burton and his Jury on stage at the Palais des Festivals. The Jury: Kate Beckinsale – Actress / United Kingdom Giovanna Mezzogiorno – Actress / Italy Alberto Barbera – Director of the National Museum of Cinema / Italy Emmanuel Carrere – Author – Screenwriter – Director / France Benicio Del Toro – Actor / Porto Rico Victor Erice - Director/ Spain Shekhar Kapur - Director – Actor – Producer / India More information Here April 2010 |Back to top |
Carlton Hotel Cannes for sale?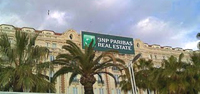 Is the Carlton in Cannes up for sale? Passing it earlier this week it had a large BNP Paribas Real Estate sign hanging from the front. It does not appear the hotel is being advertised for sale, but Cannes is hosting the 2010 MIPIM conference between the March 16 to 19th March 2010. This is the large gathering of international property professionals. According to a report in "The Daily Telegraph" earlier this week, "Around 38pc fewer delegates will attend the annual Mipim property conference in Cannes this year than in 2008. The number of attendees will be in the range of 17,000 to 18,000, according to registration figures, in line with last year but far fewer than the 29,000 of 2008, reflecting how much the commercial property industry has changed during that period." More information Here March 2010 |Back to top |
Irish people under financial pressure at home are trying to release the equity they sank into second homes on the Riviera. Agents like Ennis, of World Homes Investments in Dublin, sold apartments and villas on the Riviera as prices rose between 2000 and the peak in 2008, many by as much as 70 per cent. The French property market has proven more stable than others in the world recession, partly because of France's lending rules. And the Côte d'Azur is one of the most stable French markets because of its popularity with holiday homebuyers around the world. Some locations along it – like the Croisette in Cannes – are fairly impervious to price cuts. More information Here February 2010 |Back to top |
French Riviera covered in Snow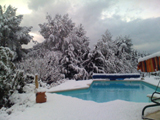 (click on image to enlarge) Snow hit the French Riviera in the last week and this secene was typical and the property is located only 2.5 km from the sea. We received an email news sheet from The Riviera Times on Friday 12th February. They said" While most of our northern neighbours are only just recovering from snow and blizzards, the Riviera is bursting with life and colour under an azure blue sky. More information Here February 2010 |Back to top |
Mairead Information Services launches on CotedAzurRental.com
Mairead Information Services has been established in Biot in the South of France for many years and is an all round services agency for English speaking people moving to the area. The French Riviera is home to a very large English speaking ex-pat community.More information Here January 2010 |Back to top |
End of the line for Motorail to south of France
The French Motorail service from Calais to the south of France is ending.A message on their website says "The French Motorail service from Calais to the South of France will sadly not be running in Summer 2010. The impact of the current economic climate and significant increases in train running costs, partly due to unfavourable exchange rates, means the service would not be financially viable" More information Here October 2009 |Back to top |
Nice Port -Port de Nice undergoing renovation
On Monday 5th October 2009 renovations to improve Nice's port started. The objective is restore the Port of Nice as a residential, pedestrian friendly area. Pedestrians, roller bladers and cyclists will then be able to travel without interuption from the Baie des Anges (Bay of Angels) past the airport via the Promenade des Anglais and round the Rauba Capeu point. Unlike at present whereby there is two way traffic, it will be a one way system in that area. On the 2nd October the symbolic foundation stone was laid at the port opposite the war memorial. More information Here October 2009 |Back to top |
End of the hot dry summer in the south of France
There were isolated storms on the French Riviera on the 13th September 09 and although the Monday was generally good, suddenly more rain over the next 48 hours over Cannes than would normally fall in the entire month of September. Since the downpour, shops, restaurants and private householders have been counting the cost of the flooding. Claims under the departments natural disasters umbrella must be registered with insurance companies within five days of the event. Cannes has had similar weather in 1999 and 2005 and it looks like The damage is now expected to run into millions of Euros.More information Here September 2009 |Back to top |
Riviera Radio launches new website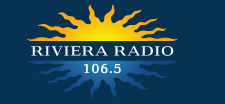 Riviera Radio the English language radio station based in Monaco has recently re-launched it's website. The station broadcasts from Sanremo in Italy to San Tropez on 105.5 FM. If you want to listen to the station from anywhere else simply go to their updated website HERE The station has news from the BBC plus local news.September 2009 |Back to top |
Flying Swimming Pool at Biot, Alpes Maritime, South of France
The peace and tranquillity of this picturesque hilltop village located between Antibes and Nice was disturbed for a few minutes in the late morning of Friday 28th August 09 around 11.00 a.m. Notices had gone up in the village's additional parking zone in Chemin due Jeu de la Beaume, a large area of grass opposite the Biot football ground that a helicopter would be landing to collect a swimming pool. Out of the sky came the red monster that landed and collected a swimming pool that had recently been off loaded from a transporter. A few minutes it took off again with the pool attached to a rope and headed north.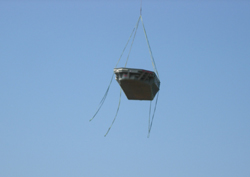 The helicopter returned a few minutes later to have the winch and rope mechanism removed and finally left Biot and the car park was open to visitors again. The entire operation was under twenty five minutes and must have been very expensive for the new owners of the pool. It would probably have been going to a villa, where the roads would have been too narrow to accommodate a large transport vehicle and a helicopter would have been the only means of transport. August 2009 |Back to top |
19th Monaco Yacht Show
The 19th Monaco Yacht Show - MYS takes place between Wednesday 23rd September and Saturday 26th September 2009. The show will be located at Port Hercules - Principality of Monaco. The entrance fee for members of the public is €60 per day and Free Entrance for under 12's. Only small dogs are allowed into the show. There is a 30€ per entrance are given to the Association Monégasque contre les Myopathies (Monaco Association Against Muscular Dystrophy) More information Here August 2009 |Back to top |
Thin end of the wedge - Sunday and bank holiday opening in France
Unlike Britain and Ireland, supermarkets and DIY stores remain closed in France and the only shops open were smaller food, newsahents, pharmacies and gift shops. For the past three / four years major supermarkets like Carrefour have been opening on bank holidays and now retailers like Intermarche Bricolage (the DIY part of Intermarche have been starting to open on a Sunday as well. Now three workers in the département of Ain have been sacked after they refused to work on Sundays.
The employees stated family commitments as the reason for not agreeing to work, but the major supermarket wrote to them and dismissed them Now the three former employees are pursuing the issue through the civil justice system. The debate on opening on Sundays is not back in the public arena and a law setting out the Sunday opening trading regulations has been approved by French legislators and will result in certain areas and industries being given the right to open on a Sunday. August 2009 |Back to top |
French President Nicolas Sarkozy takes his holiday in the south of France - August 2009
Following a night in hospital in Paris last week when he collapsed during an early morning jog, the 54 year old president is taking a three week break at his wife Carla Bruni Sarkozy's Château Faraghi at Cap Nègre near Saint-Tropez. The President has never owned a second home, preferring hotels and private yachts, however now that there is one in the family he is making good use of it this summer. August 2009 |Back to top |
Hôtel Negresco in Nice - Owner has bequeathed it to a foundation for animals and the poor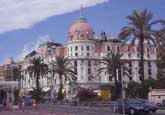 The Independent newspaper correspondent John Litchfield has reported on the 22nd July that Mme Jeanne Augier the owner of the famous Hôtel Negresco on the Promenade des Anglais has agreed that the hotel will be handed over to a charity on her death. The hotel was built by a Romanian entrepreneur, Henri Negresco in 1913 and it was bought by Mme Augier's father in 1957. The 86 old owner wants the property to remain French owned and the Mesange-Augier-Negresco foundation will also take control of her property portfolio in Nice, Grasse and Paris.The Negresco is the last privately owned luxury hotel in France with rooms costing from 290 to 1,880 per night. There are 141 bedrooms and suites and most have sea views over the Baie des Anges.
The Negresco encourages guests to bring their pets with them, in fact they can share the gues's room and are provided with a rug and water and the concierge staff will walkk the dog. Mme Augier lives on the top storey of the hotel and has always been a great frienmd of dogs. The foundation will be able to help animal refuges who don't have enough space for the abandoned dogs. More information about the hotel at their website July 2009 |Back to top |
French housing market moving again
According to a news report in the August 09 edition of "Living France" magazine after several slow months, there are certain factors that are coming in to stimulate the French property market. More on this here July 2009 |Back to top |
Changing babies nappies in French restaurants
Is it a coincidence or a nasty habit, two days running seeing babies being changed on restaurant tables in full view of the other customers. More on this here at the jmlvillas.com blog July 2009 |Back to top |
Ryanair to charge £5 to check in on line from October 09
From October 1st the low cost carrier will be charging every customer £5 to check in on line when it introduces its new web check-in and bag-drop system.. Passengers can check-in online from 15 days to four hours before a flight If passengers forget or are unable, they will be charged £40 to be checked in at the airport. The airline will also charge £100 to change the name on a booking online, or £150 over the phone. July 2009 |Back to top |
Book your car hire early this summer - you might not get one at the last minute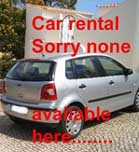 Due to the world economic situation, it appears that many car rental companies have not been replacing their car hire fleets and decreasing the number of vehicles they have available. Make sure that you book your car rental well in advance whenever possible in the height of the summer. More on this here at the car hire excess insurance blog July 2009 |Back to top | Car Rental - Hire Click Here
Good news for those dining in French Restaurants this summer

France is cutting the rate of VAT in restaurants and cafes from the current rate of 19.6 per cent to 5.5 per cent. This should mean the costs of meals will be 10% less. The move is at the start of the main two month tourist season in France . France's Minister for the Economy, Christine Lagarde said that allowing people to continue to dine out will encourage improvement in France's area of expertise..The reduction in VAT is going to let France ... conserve and improve its culinary reputation. More on this stors here at the jmlvillas blog June 2009 |Back to top
If you own a property in France you should have completed your tax return by the 31st May. The French tax authorities could have sent you the fdecration form "Avis Impôt sur le revenue". They have a specialist department for non resident owners "CDI Non Residents" at 93465 NOISY-GD- CEDEX. If you don't actually let your property, you must not ignore the form, fill it in and send a letter explaining that you don't let the property or have stopped letting it.
Like in the UK the Tax authorities will be looking for unpaid tax on rental property and will be checking with local tourist offices and agencies to check if a property is listed. You do have to send back the return within 30 days or they will demand payment and you can be penalised for late payment. If the authorities are preparing the demand they will not usually allow for the expenses in the way you would if you were preparing it yourself. If you are having difficulty completing it yourself, consider using an English speaking accountant.SEE ALSO: Tax in France May 2009 |Back to top

The Riviera Reporter has reported that an area that is under strain on the Riviera is the visitors numbers as economic considerations suggest some tourists will stick to a "stay-cation" this year. Both the Monaco Grand Prix and the Cannes Film Festival figures are down and it was even possible to book hotel rooms a month before those dates for the first time in decades. Some hotels along the coast are accepting 1 day bookings when they normally insist on 4 to 5 nights during peak months. The Riviera Reporter comments " There'll be more room to spread your towel on the beach this summer" May 2009 |Back to top
Bernie Madoff's Property at Cap d'Antibes
The Riviera Reporte's June July 2009 edition has a news report entitled "Fancy sleeping in Bernie's bed? He won't be needing it again". US Government prosecutors have filed in Federal court that they will be seizing and selling a number of properties owned in the names of confessed mega-fraudster Bernie Madoff and his wife Ruth. Included is a villa at 271 Chemin de la Garoupe at Cap d'Antibes. Mrs Ruth Madoff seemingly has no intention of coming over for a last look and the telephone has been cut off. Here husban's yacht "Bull" that is moored at Port Gallice.will also be on offer. May 2009 |Back to top
The Formula one motor racing Grand Prix takes place in the streets of Monaco on the weekend of the 21st to 24th May. Qualifying is on Saturday 23rd and the race itself on the 24th May. The Historic Monaco Grand Prix (Grand Prix de Monaco Historique)is not being held this year, as it is held every other year. Meanwhile in the April/May 2009 edition of The Riviera Reporter they report "Monaco now has 400 eyes watching your every move as the latest surveillance cameras have been installed and your number plate is checked as you enter." April 2009 |Update May 2009: British driver Jensen Button won (Brawn) 2nd Brazillian Rubens Barrichello (Brawn) 3rd Finland's Kimi Raikkonen. lBack to top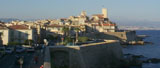 Celebrating the life of Pablo Picasso
There is a celebration of the famous resident Pablo Piscasso until the 27th September 09.With a trail around the south of France. At Antibes (pictured to left) Picasso, 1945-1949 : l'ère du renouveau... Exhibition from the 29th March to the 14th June 2009 at the Musée Picasso.Then at the Musée Granet in Aix-en-Provence and finally at Château de Vauvenargue which is Picasso's last home. More information here April 2009 |Back to top
Aer Lingus London Gatwick Hub offers new services to Nice
From the end of April 2009 Aer Lingus is flying twice daily from London Gatwick (their new Engligh hub)to Nice. The Irish low cost operator Ryanair is resuming it's service from the end of April till the 23rd of October from London Stanstead to Toulon-Hyères. This is more convenient than Nice for residents in the Var. There will be flights four days a week with a daily service in July and August. April 2009 |Back to top
Drink Drive laws in Italy Update - Take great care if you take the car you rent in the South of France into Italy for the day.
Italy Magazine's March 2009 edition reports that the new Codice della Strada (The Highway Code) has stated that if you drink more than three glasses of wine or more than one brandy you will not pass Police alcohol tests. Apart from having the driving license suspended up to a year, the vehicle can also be confiscated and sold by the state. March 2009 |Back to top
Fewer attend Cannes Property Summit March 09
Attendance at the world's largest property summit suffered a 50% year-on-year decline last week, and though this had a detrimental effect on the flow of champers and boat hire, it didn't stop the parties or dampen enthusiasm about forthcoming property investment opportunities. Delegate numbers at this year's MIPIM summit were reportedly down 50% to around 15,000, which is perhaps unsurprising given the economic climate. This was the 20th annual property jamboree in Cannes in the South of France, which is usually recognisable by its mass of marquees along the waterfront. However, this year the coast was left to the grand dames of Cannes to flaunt their wealth alone.
Cafes, bars, restaurants and hotels also noticed the decline in delegate numbers, with most trading under their own names, rather than the companies and firms that normally take them over for four days during the summit. Further, according to one boat owner and a regular at MIPIM, a total of 40 boats had been cancelled with the harbour authority prior to the event. March 2009 |Back to top
AMB Cote d'Azur reaches the grand age of being five years old!
Launched in February 2004, and starting from humble beginnings, the site has grown from just one writer Alice Barker, to having a fabulous team of over 20 writers, all passionate about the beautiful region. AMB Côte d'Azur was created by husband and wife team, Alice and Nigel Barker. Using Nigel's extensive technical computer background and Alice's desktop publishing skills, the website became the natural vehicle to share their combined love and interest of this beautiful region of France. February 2009 |Back to top
Monaco scraps the land extension plan
The scheme to extend Monaco's land area by 275,000 m2 off Fontvielle has been cancelled till further notice.It was going to cost in the region of 10 billion and the official explanation of the decision to scrap the scheme emphasizes the need for further assurance that the environmental consequences are minimised as far as possible.February 2009 |Back to top
Buying or selling info in France
If you need to check out what property has sold for in France then you need to visit www.immoprix.com. The data is provided by Notaires. You'll find prices and indices for each type of property (house, apartment, land) based on its geographical location (region, department, municipality, district, neighbourhood). February 2009 |Back to top
Nice Carnival Celebrates its 125th anniversary in 2009
The Nice Carnival (Le Carnaval de Nice ) 2009 takes place from 13 February to 1 March 2009. It is one of the biggest Mardi Gras carnivals in the world. There will be the illuminated corsi carnavalesques (carnival floats) and the famous battle of flowers. The burlesque and poetic parades are a coming together of floats made from papier-mâché or covered in flowers, accompanied by performances from street artists and groups of musicians. The procession is made up of 20 floats decorated according to a theme and about 150 "large heads"; it turns into a colourful parade of dazzling colours into which blend the street artists and groups of musicians from around the world. In the evening, all the floats are illuminated and the procession lights up the whole of Nice.
The 2009 themes conjures up "the art of masquerading in all its senses": the wearing of masks, of course, changing one's appearance and putting on a performance, in short, the art of deception. From simple dressing up to cosmetic surgery, carnival is no longer the only kingdom of cross-dressing and trickery in all its possible guises, obviously in a modern and delirious fantasy setting. February 2009 |Back to top
Pancake Day - As reported in the Riviera Reporter February / March 2009
In the UK, of course it is Shrove Tuesday, the day before Lent starts. That is Mardi gras in France, but it is not the day when crêpes are traditionally eaten in France. The date is February 2nd and the day is known as Chandeleur. In English in Catholic times Candlemas. In modern churchspeak it is the feast of the Purification, marking Mary's presenting Jesus at the temple in Jerusalem forty days after his birth. Where the old customs holds sway in France pancakes shouln't be eaten on that day before eight o'clock in the evening. Anyone who wishes, can have a go at tossing a crêpe in the pan. If this is done successfully then it is a sign that the person will have a propsperous year. Source Riviera Reporter February 2009 |Back to top
French ban promoting mobiles to children
New laws are to be put into place clamping down on children's use of mobile phones in France amid growing fears that they may cause cancer and other diseases. Jean-Louis Borloo, the Environment Minister for France announced recently that any advertising of mobiles to children under 12 is to be banned. The French government will also introduce new limits for radiation from the phones and make it compulsory for handsets to be sold with earphones, so that users can avoid irradiating their heads and brains. And one of the country's largest cities last month started an advertising campaign to discourage the use of the phones by children. February 2009 |Back to top
TV ads coming off French TV or some of it
Following President Sarkozy's involvement with the state owned French TV channels France 2 - 5 and his desire for them to be like the BBC, The board of France Télévisions voted by nine to two in favour of scrapping advertising after 8pm from the 5th January 2009. (loi Albanel) The decision will affect all four of the country's TV Channels and there will be a blanket ban from 2011. The shortfall in revenue will be funded through two new taxes. One of these will be levied on Internet service providers and another on the extra advertising revenue channelled to the private TV channels. January 2009 |Back to top
Mike Lorimer steps down as President of the BCC - January 2009 - New president is Dutchman Ab Kuijer.
At the AGM of the British Chamber of Commerce of the Riviera held at the Novotel, Sophia Antipolis last night, outgoing president, Mike Lorimer, opened proceedings by presenting a cheque for €1.100 to Valerie Haxton, Group Chairman of The British Association of the Alpes-Maritimes and Var region. The money had been raised by the membership at recent functions and is a significant contribution to the Association's charitable works.More on this Here - January 2009 |Back to top
The Monte Carlo Rally - Rallye Automobile Monte-Carlo 21-24 January 2009
World junior champion, French man Sébastien Ogier, driving a Peugeot 207 S2000, won the 2009 Rally of Monte Carlo ahead of two other Peugeot drivers, Freddy Loix of Belgium and French compatriot Stephane Sarrazin.The Citroen World Rally Championship (WRC) driver was making a one-off appearance in the Intercontinental Rally Championship (IRC) January 2009 |Back to top
French Prime Minister Francois Fillon unveiled a multi-billion-euro stimulus plan
It is targeting the transport and housing sectors, as well as research and heritage renovation work. The French government is now under intense pressure to show how the project will perform and protect workers from the economic downturn. Many unions are demanding a back-up recovery plan to boost consumer spending by increasing pensions and salaries. Around 870 million euros will be invested in the transport network, 730 million euros into research and universities, 620 million on culture and heritage renovation work, and 1.1 billion euros used to build and renovate social housing. Several billion more are spread across dozens of small-scale projects, from energy-efficient farming to boosting security in mental hospitals, with planned investments pulled forward to the period 2009-2010. January 2009 |Back to top
Fierce storms devastate southwest France
Weather forecasters warned again that those regions devastated by the storms could see damage by flooding and further gales..The fiercest storm since December 1999 killed at least nine people in southwest France and 12 in northeast Spain as gusts uprooted trees, damaged buildings and initially left 1.7 million homes without power. French rescuers scrambled Sunday to reopen railways, douse forest fires and restore power to nearly a million homes plunged into darkness by a violent storm January 2009 |Back to top
Midem - Cannes (Marché International du Disque et de l'Edition Musicale) January 2009
8,000 participants, spanning all sectors of the global music business, from over 80 countries left Cannes on the 21st Januarytaying that MIDEM 2009 had served as a launching pad for them to examine new business models that embrace digital and that they are facing the future with confidence. 60s British pop and rock icon Donovan took Cannes by storm with live performances including one which hushed assembled journalists attending a press conference by the singer. More information on MIDEM January 2009 |Back to top
Tour de France to start in Monaco in 2009
Running from Saturday July 4th to Sunday July 26th 2009, the 96th Tour de France will be made up of 21 stages and will cover a total distance of 3,500 kilometres. It starts in Monaco and then through the South of France to the Pyrénés and to Andora and then there wil;l be two days in Spain. Later there are stages in Switzerland. Addining to the international tour fever the 2010 Tour starts in Rotterdam in Netherlands on July 3rd, 2010. November 2008 |Back to top
Nice Riviera Tourist Pass now available
The Nice Riviera Tourist Pass has been introduced and is ideal for those spending a few days in the city. The pass allows visitors to make the most of unlimited usage of the city's "Grand Tour" double decker buses and free entrance to attractions like the Monaco exotic gardens, the Russian Cathedral and museums including the Marc Chagall museum. There are also price reductions at selected restaurants and shops. You can have the choice of purchasing a one day, two day or three day pass. More information at the tourist office website October 2008 |Back to top
Good time to buy in France according to a report in The Irish Times
The Irish Times reported on the 25th September that it is now a "Good time to buy as French prices fall by up to 25 percent" They reported that a survey in the daily newspaper "Aujourd'hui En France" revealed that prices have already fallen in 2008 between five and twenty five per cent. Marseille that has a large stock of of new unsold property is amongst one of the worst affected areas. It is a different story in Paris where prices have climbed by 9.4 per cent. September 2008 |Back to top
A film featuring the arrival of Coco Chanel in Grasse - Chanel & Stravinsky l'histoire secrète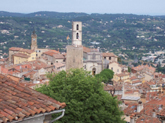 22nd September 2008 and many of the streets in the pretty hilltop town of Grasse are blocked off as filming has just started in the old town, featuring the arrival of Coco Chanel in Grasse. The film is entitled "Chanel & Stravinsky l'histoire secrète" (The Secret Story of Chanel and Stravinsky). It will star Anna Mouglaiis as Coco Chanel and Mads Mikkelsen (who was in Casino Royale) is to be Stravinsky.Jan Kounen is directing the film.
It is set in the 1920's. Unfortunately shooting has started just as the excellent summer weather has gone downhill.The film is out in 2009 year and will appear in the Cannes Film Festival but apparently not in the competition. September 2008 |Back to top
Villa Léopolda at Cap Ferrat in the Côte d'Azur in the south of France sells for €500m / £390m.
The villa built in the early 1900's has been sold to a Russian billionaire. It has now smashed the record for the most expensive house in the world. It is set in 20 acres of gardens overlooking Cap Ferrat near the picturesque fishing village of Villefranche-sur-Mer. The villa was originally built for King Leopold II of Belgium. Other owners have been the Angelli family, the founders of Fiat A report from Nice Matin has said that it has been sold by Lily Safra, Edmond Safra's widow. He was a Lebanese Jewish banking billionaire who was murdered in Monaco in 1999 by his male nurse. The new Russian owner wishes to remain anonymous August 2008 |Back to top
Former Hotel Le Provençal at Juan Les Pins is being converted into luxury apartments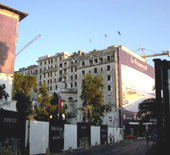 Le Provençal that was once a famous hotel with spectacular views over Juan Les Pins and the Mediterranean is being revamped. Located near to the site of the annual Juan Les Pin Jazz festival -Jazz à Juan. It was originally built in 1926 as a 290 room hotel by American millionaire Frank Jay Gould and its era entertained guests like John F Kennedy, Winston Churchill, Douglas Fairbanks Jnr and Charlie Chaplin. The hotel closed in 1966 and the 15,000sq m 10 storey white building has stood empty for the past forty years. English property developer Cyril Dennis who has successfully developed a large amount of London's docklands has paid a reported £48 million to the German owner. It is now being re-furbished and being converted into luxury apartments. There will be 56 of these plus 4 studios and the prices are likely to be between €2.7 million and €37 million for one of the penthouses. A parking space will cost €50,000 each and there are 131 of these. July 2008 |Back to top
Monaco Grand Prix
On a very wet Sunday on the 25th May, Lewis Hamilton won the Grand Prix in a McLaren-Mercedes he was the first Englishman to win the race since Graham Hill in 1969. Second was Robert Kubica BMW Sauber from Poland and third was Brazilian Felipe Massa in a Ferrari who had been on pole position.May 2008| Back to top
Cannes Film Festival
The Cannes Film Festival's Palme d'Or was won by the French production Entre les murs (The Class) on the 25th May 2008. The film, directed by Laurent Cantet, used teachers and students to chronicle a year in the life of an inner-city school. This is the first time a French film has won the Palme d'Or since Sous le Soleil de Satan by Maurice Pialat in 1987 May 2008 More Information | Back to top
Mediterranean building ban
Environment ministers of 14 countries have agreed in principle to ban the construction of commercial and residential developments within 100 metres of the Mediterranean coastline. The new Integrated Coastal Zone Management (ICZM) was ratified in Almería by the ministers.
The convention has agreed that along the 29,000 mile shoreline of the Mediterranean that no construction would be permitted within 100 metres of the coast in an effort to help protect the coastline from the damage caused by development and human contact. Christina Narbona Spain's minister for the environment and José Fernández Pérez, Spain's environment ministry Director of coastal areas told a press conference that Albania, Algeria, Croatia, France, Greece, Israel, Italy, Malta, Montenegro, Morocco, Slovenia, Syria and Tunisia have all ratified the Barcelona Convention and that Bosnia, Cyprus, Egypt Lebanon, Libya and Turkey have not at this stage, however they are believed to be signing the agreement later in 2008. March 2008 | Back to top
Lyon to move to Dubai! Not quite
A Dubai entrepreneur who has fallen in love with Lyon, plans to build a new version of the French city in Dubai. The new district will be called Lyon-Dubai-City and although this will not be a Disney style copy of the city it will be complete with cinemas, cafés and building built in Lyonasise style. It will be about the size of the latin quarter of Paris and the estimated costs are around 500 million. The city will be organised on European lines. In April 2007 it was announced that The Louvre Paris opens "another branch" with a Museum in Abu Dhabi. March 2008 | Back to top
Vladimir Putin buys a Château near Saint-Tropez
The Daily Telegraph revealed earlier this year that former Russian President Vladimir Putin had bought a Château near Saint-Tropez. According to their report, it is in the process of being renovated in time for the spring. The accommodation includes an inside and outside swimming pool and has 20 30 rooms. March 2008 | Back to top
Airline News Update for February 2008
easyJet who has acquirred GB Airaways from the Bland Group will be flying to Corsica. They will offer services from London Gatwick to Ajacio and Bastia and additional routes in France to Montpellier and Nantes. Meanwhile Ryanair has launched it 25th European base at Birmingham. From Birmingham they will offer services to Biarritz, Dinard, Marseille and Perpignan. February 2008 | Back to top
Increase in passenger traffic at Nice Airport in 2007
The year end report for Nice Airport showed that traffic has now crossed the ten million mark. In 2007 10,385,000 passengers passed through showing a growth of 4.5 per cent on the 2006 figures. The busiest time was May to September.As far as routes are concerned, Paris is the most popular followed by London and Amsterdam. Air France comes out as number one airline followed by easyJet and British Airways. Two new airlines started flying to Nice in 2007 - Ryanair from Dublin and Vueling from Barcelona. There are now 65 destinations in 23 countries flying to Nice.February 2008 | Back to top
Ikea sets a provisional date for early 2010 for new store in the South of France
The Swedish furniture group IKEA is intnsifying efforts to finalise a location of it's new store. They have set a provisional date of early 2010 to open the new store. The propsed site at Mougins has been rejected and they are looking at a site at Bec de l'Estéron in the Gillete commune. It is a big site with no problem for access roads.February 2008 | Back to top
Monaco has a new hotel
The Novotel Monte-Carlo has opened in Boulevard Princesse Charlotte. It is a 218 bedroom hotel that is being marketed as a Three star plus. This means that it will not compete with the luxury hotels or the mid range sector. The hotel intends to attract business and leisure clientel. 18 of the rooms are suites and the hotel also has an outdoor heated swimming pool, a roof terrace, fitness room, two hammams and a 24 hour retaurant. It is located approximately 200 metres from the railway station. Meanwhile whilst France has a smoking ban, Monaco does not. However smoking at the Joël Robuchon restaurant at the Métropole Hotel is no longer an option. Smoking is still allowed in the bar but it is expected that the Moegasque authorities will introduce tougher smoking laws shortly.February 2008 | Back to top
House prices to remain stable in France in 2008
France's national association of estate agents FNAIM (Fédération Nationale de l'Immobilier) has said that after an increase of some 140 per cent over the last ten years, house prices in France will continue to rise in 2008, however this will be a slower rate than in previous years. Their annual report has revealed that in the last quarter of 2007 house prices rose 2.5 per cent. The President of FNAIM René Pallincourt stated that the stability of the market would persist throughout 2008 saying in Le Monde "It apears that any downturn can be dismissed, prices will stabilise within the 0.2 per cent growth range". According to one major French estate agent Orpi, 6.5 per cent of enquiries came from house hunters whereas only 2.5 per cent from vendors. February 2008 | Back to top
British and Irish citizens now own 3.81 million properties overseas.
The figure does not include timeshares. The research agency Datamonitor has found that 1.21 million properties are owned by permanent Irish or UK residents. There is £44 billion on the overseas property market in 2006 and the research says that growth will be over 13% between 2008 and 2012. The main countries people still choose are France, Spain and the USA.January 2008| Back to top
From the 17th November 2007 — Low cost carrier Ryanair strats flights between Dublin and Nice
Aer Lingus's monopoly of flights between Dublin and Nice will end when a daily Ryanair flight starts. Ryanair will also be operating routes to Marrakesh and Fez in Morocco from Nice Cote d'Azur and Marseille from October 31st. 2007 October 2007| Back to top
Founder of Ryanair — Dr Tony Ryan dies
Dr Tony Ryan the Ryanair airline founder and entrepreneur died at his home in Co Kildare, Ireland on the 3rd October 2007 after an 18 month battle with pancreatic cancer. He was 71. Michael O'Leary chief executive of Ryanair who was Tony Ryan's personal assistant said," It was a privilege to work for him and to learn from him". More on this story here. October 2007| Back to top
Report shows house prices in the Alpes-Maritimes- are still on Increase
The Observatoire Immobillier report for the Côte d'Azur that monitors house prices in the Alpes Maritimes shows house prices are still on the increase. It states that in the first quarter of 2007 buyers were spending 5 per cent more on modern houses and 10 per cent on established ones compared to the same period in 2006. Only 1,400 new build properties have been released in the first six months of 2007 which is 30 per cent less than in 2006 October 2007
Inheritence tax threshold raised in France to boost property market
President Nicolas Sarkozy has increased the inheritance tax threshold to boost the French property market. The new legislation raises the inheritance tax threshold from 50,000 to 150,000 per parent for each child. For brothers and sisters the threshold rises from 5,000 to 15,000 and for nieces and nephews it will be 7,500. It is estimated that with the new changes as many as 95 per cent of the population in France will no longer pay any inheritance tax at all upon the death of their parents.September 2007 | Back to top
Holiday Home Insurance Warning in France
A correspondent to a French property magazine wrote in August 2007, a warning to other readers about the importance of retaining receipts for items of property at the family holiday home in France. It was reported that the house was broken into in late 2006 and the agent made the discovery. Although the agent dealt with the issue, the owners decided to visit the property as well. The property was insured with a large French insurance company September 2007 More on this story | Back to top
Helicopter flights at St Tropez limited
The French authorities have limited helicopter flights to St Tropez following complaints about the noise. In 2006 a voluntary agreement authorised 1,200 flight movements a year, but 5,000 flights were registered between June and August 2006. Some companies were found to be flouting the rules.August 2007
ICM Research finds that many British buying in France are unaware of the need for insurance.
French Property News reported in it's June edition that according to a recent ICM research that was commissioned by Hiscox that there are now much younger and inexperienced buyers of overseas homes. Young people are buying overseas to get a foot on the property ladder and then eventually selling up and buying in the UK. The research backs up the fact that only 4 per cent of those surveyed said that legal liability for guests having accidents on their property worried them. They should fully examine the policy and find out what they are covered for. more information June 2007 Back to top
French property prices look set to increase by 6% in 2007 and second home property prices have risen by 19% per annum over last ten years.
A report from the national association of French estate agents FNAIM state that re-sale property prices look set to increase by six per cent in 2007. In April the price of apartments increased by 1.4% compared to March 2007. Although prices for non-new build houses remained almost at a standstill with only an increase of 0.1%, jointly property prices have registered a year on increase of 1.3% during the first three months of 2007. These increases are not as high as in 2006 when they rose by 7.2% ,10.9% in 2005, 15.5% in 2004 and in 2003 14%.
However, property prices of second homes in France have risen on average by 19% over the last ten years according to research by estate agents Savills and the holiday home website Holiday Rentals.co.uk. The Rhône-Alpes region has experienced the highest second home price increase over the last five years. June 2007 Back to top
Higher French tourist records for 2006
There were 78 million visitors to France in 2006 according to figures released by junior minister for tourism Léon Bertrand. The figures represent 75 per cent being fellow Europeans - including Spanish, British, Swiss and visitors from Eastern Europe. The increase is a 2.7% increase on 2005.June 2007 Back to top
Research has found that London residential property is the most expensive in the world - It has now overtaken Monaco - Cannes is 6th, St Tropez 7th and Paris is in 9th place.
A report by Knight Frank and Citi Private Bank has revealed that London has the most expensive residential properties in the world. The average cost in prime central London is £2,300 per square foot. More May 2007 Back to top
Barclays Bank expands French operation
Barclays Bank that is very much in the news in April after it has agreed a €67bn takeover of Dutch bank ABN Amro. Barclays will hold a 52% stake in the new merged banking group, which will be the world's fifth largest banking group . It has opened a new branch at Port-Frejus in the Var in the south of France. The bank currently has eight branches in the south of France April 2007 Back to top
New Identity signs in Monaco
The signs at entry points to Monaco have also been added in Monacan - Principatu de Múnegu - Mune Carlu have been added. The Comité des Traditions Monégasques have arranged these in order to emphasize Monacan identity and heritage.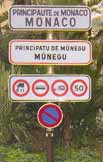 April 2007 Back to top
Russians are buying up the hotels in the South of France
In 2006 the owner of Chelsea Football Club - Roman Abramovich bought the Hôtel du Cap-Eden-Roc at Antibes, near Cannes.This hotel is a favourite location for the stars of the Cannes Film Festival (see) and is very popular with rich Russian tourists visiting the Côte d'Azur. Their website lists a long alphabetical celebrity guest list. Now a fellow Russian Leonard Blavatnik has just purchased the prestigous Grand- Hôtel du Ca-Ferat located between Nice (see) and Monaco. He is a business oligarch - business magnate who was born in Russia and emigrated to the USA in 1978. This specatular hotel was opened in 1908 and like the Hôtel du Cap-Eden-Roc has a pedigree guest list including Winston Churchil, Aristole Onassis, Pablo Picasso and a fellow Russian Tsar Nicholas 11. There are 44 rooms and 9 suites with room rates from €333 to €1,098 and at times rising to €2,525 per night. The estimated purchase price he has paid is €215 million - £146 million. He has also purchased the Hôtel de Vendôme in Paris.This is located in Place Vendôme in the centre of the French Capital. March 2007 Back to top
Assetz Finance states that more holiday home purchasers are taking out French Mortgages
A recent report by Assetz Finance states that more people buying holiday homes in France are taking out French mortgages instead of paying in cash. Assetz Finance in the last year has seen a rise in the number of British holiday home buyers taking out a French mortgage from 33 per cent in 2005 to 50 per cent in 2006. French mortgages are one to one and a half per cent cheaper in the UK. January 2007 Back to top
France 24 TV news is launched
France 24 the French international news channel has been launched. This news channel offers a French perspective on world events. It broadcasts 24 hours a day offering an in depth analysis of current affairs and news. It is broadcast in French and English and later this there will be an Arabic version and a Spanish version is scheduled for 2010. It is available via SKY or TPS. January 2007 Back to top
Marseille to be France's first airport dedicated to cut price air travel
Marseille is to be France's first airport dedicated to low cost airlines with one million passengers expected to pass through the airport in 2007. A new terminal, MP2 ( short for Marseille Provence 2) will be located next to the existing buildings. This will be able to deal with six flights at any time. It will deal with 3.5 million passengers per year. The new facility will boost traffic at France's fourth largest airport December 2006 Back to top
Britons now own £4.6billion of property in France
Britons have bought some 51,000 properties in France sonce 2000. The last French census in 2004 recorded a 50 per cent increase over five years in the number of Britons who live permanently in France to 100,000 and there are about 500,000 who spend more than six weeks a year there. The country is the favoured place for retirement with 37 per cent wishing to retire there according to an ICM survey as opposed to 30 per cent opting to stay in Britain. At the same time the survey found that if given the choice of nationality, just over half of Britons under 50 would retain their passport, but 22 per cent would opt to become French instead. October 2006 Back to top
Expansion out to sea at Monaco
The Sovereign Price Albert II has formerly launched his first major project since taking the reins of the Proncipality of Monaco. Tweleve hectares are to be reclaimed from the sea at Le Portier, just west of the Grimaldi Forum. The land is to be developed to offer 300,000 square metres of extra space for housing (40 per cent) and office space, alongside public amenities such as nursery school and crèche. There will also be another shopping centre and additional berths for pleasure boats and a coastal pathway to link Lanvotto to Port Hercule. There are also plans to build a new National Museum here. Work should begin in 2008 and be completed by 2014 and to pay for it - there a budget running into billions of euros. September 2006 Back to top
Aer Lingus will be charging for carrying luggage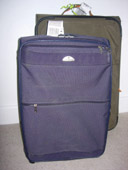 The Irish airline Aer Lingus has followed Ryanair and FlyBe in annoucing that it will charge passengers extra for baggage it carries in the aircraft hold. This will be from the 17th January 2007. They will levy a fee 8.00 / £5.50 for each bag carried for short haul flights or half if it is booked on line in advance. This fee policy reflects the moves among some low cost airlines like Irish competitor Ryanair to apportion costs for optional services. The company has abolished complimentary catering on its European network. The policy will not affect British Airways passengers who are booked on "code share flights" (EI127 /BA329 for excample) that operated from London Heathrow to Dublin, Cork and Shannon. British Airways has negotiated for its passengers to be exempt from the charge. August 2006 Back to top
Property Boom in France
Property investors are receiving an average 92 per cent return on their investments in property in France. Property investments in France are outperforming those in the UK, Spain and Florida-USA according to a study by property investment specialist Assetz. Florida was second with 81 per cent. The UK stands at just 35 per cent. August 2006 Back to top
Delta Air Lines now has a non-stop scheduled flight between Nice and Atlanta, USA and Sky Europe starts a service to Prague in the Czech Replublic.
Delta Airlines have announced a new regular service between Nice and Hartsfield Jackson. They can now connect with 145 daily flights to over 130 cities around the world. This development takes place less than fifteen years after the Nice to New York (JFK) service was established. The low cost carrier Sky Europe started a service to Prague in April. There are three flights a week. The company started in 2001. July 2006 Back to top
Villeneuve-Loubet promotes itself as a family resort on the French Riviera
Villeneuve-Loubet as numerous tourist assets. There are seven thousand hotel beds, two natural parks, the Canyon Forest, self catering holiday apartments and villas, the Labyrinthe de L'Aventure, a riding club, a castle, river and of course the Mediterranean Sea. The municipality has decided to promote it's family image by putting a great emphasis on young children. Back in 2004 the town became the only commune on the PACA region coast to be awarded the "Station Kid" label (This is a Ministry of Tourism label taking into account the quality of the environment, security, facilities and activities for Children). There is going to be a big poster campaign. July 2006 Back to top
European Estate Agents sign up to an International Code of Practice
There have been more than 40,000 Estate Agents throughout Europe who have chosen to conform to a code of practice that was originally developed by the National Association of Estate Agents (NAEA) and FOPDAC. This is the Federation of Overseas Property Developers Agents and Consultants. It was established over 30 years ago. All members of the European Confederation of Estate Agents (CEI) will now belong to the this new International Code of Practice. This will also include recently joined EU members like Slovokia as well as France, Ireland, Germany, Spain, Portugal Italy, Romania, Holland, Hungary and Austria.June 2006 Back to top
Airline tax in France
From 1st July 2006 France will be imposing a taxe de solidarité on airline tickets to contribute to the financing of developing countries. When passengers take flights from France they will pay a maximum of1 for economy class and 10 for business class for inter European flights. If they are non-European flights the tax will be 4 for eceonomy and 40 for businees class. This tax is expected to raise over 200 million euros.June 2006 Back to top
Ryanair chooses Marseille as south of France base and Jetairfly continues it's north - south routes into the winter.
The low cost airline Ryanair plans to make Marseille its 16th "hub" base. It will base aircraft there and operate routes from November 2006 to Dublin, Eindhoven,Brussels Charleroi, Fez in Morocco, Glasgow, London Stanstead, Rome Ciampino and other locations. Meanwhile Jetairfly airlines have announced that due to popular demand they will continue their Brest-Toulon flight into the winter.The service started in April 2006. The company is part of Jetair, Belgium's leading tour operator. It is known in France as Nouvelles Frontières - TUI France and Corsair. June 2006 Back to top
Corsica Ferries Celebrated their 10th anniversary in May 2006
In 1996 Corsica Ferries ended the SNCM monopoly of crossing to Corsica. On the 22nd May they celebrated in the port of Nice. The company carried 2.7 million passengers in 8,000 trips or more in ten years. There are now how speed ferries ( NGV's) and of one million passengers travelling between Nice and Corsica in 2005, 750,00 went by sea. May 2006 Back to top
Ikea site is being opposed
Plans that have been submitted by the Swedish furnishing store IKea are being opposed. These were unveiled in February to build the the news tore near Mougins. The Association for the Defense if the Quality of Life of the Inhabitants of the Saint Martin Quarter of Mougins and its Neighbours (ADCV) was formulated on March 7th. Ikea plans a 20,000 square metre store in the Saint Martin ZAC ( Zone d' Aménagement Concerté ) area. The Mayor of Mougins Richard Galy believes that increased traffic will benefit the area financially and supports the project which should create around 500 jobs in the area. The ADCV believe that stote will have a negative effect on the local and regional economies. They say it will cause more traffic polution and lower the quality of life for residents. The nearest Ikea stores to the area are at Toulon and Marseilles. May 2006 Back to top
2005 Property Market in the South of France
The Observatoire Immobbilier de la Côte d'Azur for the Alpes Maratimes - the body that monitors the property market has published the statistics for 2005. Prices have been at an all time high with a 21 percent increase in 2005. There has been an 18 percent increase in the average price of new buildings that have come onto the market and the trend appears to be continuing into 2006 with the average price already being 14 percent more expensive than previously. Although prices have risen the number of sales appears to have stagnated. There has only been a 0.5 per cent increase in the sale of properties whilst the stock available has increased. People buying in the region are a mixture of French, foreigners - They are buying for second homes, retirement or investment. On the commercial side there are projected office buildings in Nice with up to 320,000 square metres to be developed in the north of the airport at L'Arenas and Méridia. May 2006 Back to top
French Property prices rise by 10.3 per cent in 2005
Average property prices in France rose by 10.3 per cent in 2005 according to the French National Association of Estate Agents (FNAIM). The price of property rose strongest in Auvergne, Basse-Normandie, Le Centre, Champagne-Ardene, Franche-Comté, Haute-Normandie, Languedoc-Roussillon and in Lorraine. The East and North also continued to see rising prices. May 2006 Back to top
Pets in Apartments in France
A correspondent of The Riviera Reporter has written to the magazine saying that under French law a person renting a property has a right to keep a dog. This person ows a time share in Antibes and although other residents are permitted to keep dogs, their time share company refuses consent. The Riviera Reporter has replied that under normal circumstances no one can forbid them from keeping an "animal del compagnie" (domestic pet). According to the law dated July 10th 1970 - you can keep several animals - within "reasonable limits" - except for certain categories of dangerous animals and dogs oulined in the revised law of January 6th and April 27th 1999.The only types of dogs that can be forbidden outright under the terms of these laws are Pitbulls, American Staffordshire Terriers, Staffordshire Bull Terriers,Boerbulls and Tosa Inus. Under the law you are required to prevent your dog from disrupting the tranquility of your neighbours by barking or foul odours. The dog must not cause any physical damage to the building or gardens and communal areas.April 2006 Back to top
Flights now avaible between Nice, Cork, Dublin and Belfast
Starting on the 1st April 2006 Aer Lingus will be flying to Dublin from Nice on Monday, Wednesday, Friday and Sunday and to Cork on Friday and Saturday. The frequencies will be increased in the summer. easyJet will have flights to Belfast on Monday,Thursday and Saturday.April 2006 Back to top
The A8 motorway is becoming like the M25 in England
The Autoroute A8 between Antibes and Nice will become grid locked by 2020 and is France's busiest stretch of motorway. It is one of the most dangerous with 2.5 more accidents than the national average. The section that leaves the cost and heads north just before the airport is quite a black spot. A plan is under public discussion. It is called the contournement de Nice and the objective is to either create two tunnels between Nice est and Vaugrenier and a doubling of the A8 between Antibes and Biot or create two tunnels between Nice est and Breguières with one intersection and exit north east of Sophia Antipolis. The third option is to widen the A8 between Nice est and Nice Saint-isidore. It will take several years before studies and consents are agreed and construction work probably not starting till 2012. January 2006 Back to top
Now is the time to get your swimming pool in order
The 2003 law regarding swimming pools in France comes into force on January 1st 2006. This specifies that all private pools without exception should be equipped with a safety installation, designed in particular to protect children. Failure to observe the new rules could bring a fine of 45,000 euros. There appears to be no system of routine inspection in force, however if you try to rent out your property through an agency, you could well have difficulty if you have not applied for the new security measures. If there is an accident in your "unprotected" pool you could be in big trouble. In 2002-2004 there was an average off 22 deaths a year in France by drowning in pools. November 2005 Back to top
Cautious optimism for the French Riviera
As there is now increasing competition from the resorts in Eastern Europe and the growing influence of low cost airlines, the French Riviera is now struggling to maintain market share in the tourism industry. The strong Euro had not helped and Eastern Europe has more availability and is less expensive.
Tourism industry experts are a little more optimistic after the 2005 season. In Nice for example there was a 4 per cent increase in hotel guests in July compared to the same time in 2004 according to the Syndicat des hôteliers Nice Côte d'Azur. They indicated that the hotel occupancy in Nice was at around 70/75 per cent in 4 star and deluxe hotels and 80/85 per cent in other categories.
There are several factors contributing to the upward trend. There are now low cost routes into Nice from Bratislava and Budapest and the Euro is not quite as strong as it had been. The region has been using the Internet more for promoting travel packages with the annual events like jazz festivals and there has been a change in which hotels have adapted to the needs of their customer base.
The main visitors to the region are principally foreign tourists from Britain, Belgium and Germany and more Americans are returning to France. Nice Côte d'Azur airport has reported a 6 per cent increase in passenger traffic. There is also a booming cruise liner market with Monaco
and Cannes reporting a 55 percent cent rise in passengers. They still have a long way to go before they regain their previous dominance and the job now is to keep people interested.

New directives reveal that the future of regional tourism is believed to be concentrated on two main markets. Leisure - affiliated with events, special interest tours and cultural highlights. events. The other is Business tourism - Conferences. September 2005 Back to top
The information provided here on The Property News page is given in good faith and should not be relied on for accuracy
You will need Travel insurance for your holiday in the South of France and if you are renting a car don't rent before you take out a car rent excess policy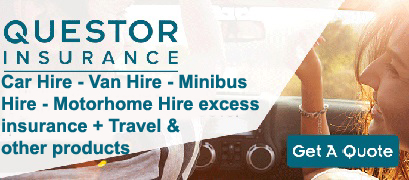 Do you own a Holiday Home in the South of France or Monaco? Is the insurance policy written in English? Find out more Here

Riviera realty from French Property News September 2006 Click Here
Enjoy your stay in the South of France ....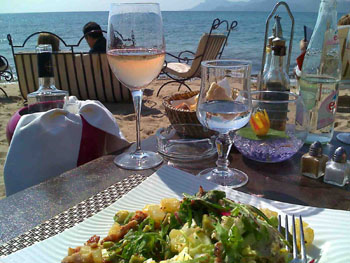 eat - drink -stay & wake up on the Riviera
________________________________________________
See site Map for statutory information about jml Property Services Here