Find more articles about the South of France Here
Freak waves cause havoc in the Nice area of the South of France - Coup de mer dévastateur sur le littoral azuréen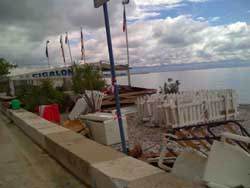 Freak waves cause havoc in the Nice area on the 4th May 2010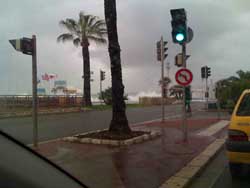 (Left Nice)
Massive waves have hit the French Riviera between Nice and Cannes causing major material damage to the densely-populated coast on Tuesday afternoon 4th May. The freak weather struck as the region is preparing to host the 63rd Cannes Film Festival.
Freak waves battered the southern French coast between Menton to La Ciotat on Tuesday afternoon, causing major damage to beach constructions only a few days before the Cannes Film Festival is set to begin.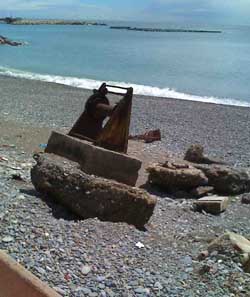 (left Cagnes sur Mer)
There were four to ten metre-high waves battering the coastline, leaving one woman with a fractured leg and causing major material damage. The unusual weather cost the life of a 20-year-old woman who was swept away near the lighthouse on Saint-Jean-Cap-Ferrat.
(right Nice)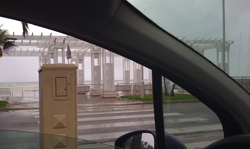 In Cannes, some 20 restaurants were damaged and several cars overturned. Giant waves crashed over cafes and festival installations on the beachfront La Croisette, causing millions of euros worth of damage.
The pictures below is of a restaurant - la Gougouline at Cagnes sur Mer. The restaurant was severly damaged in the bad weather on the 1st January this year and has suffered again on the 4th May.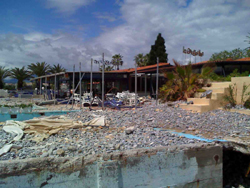 xxx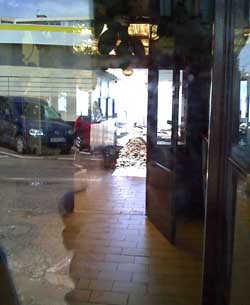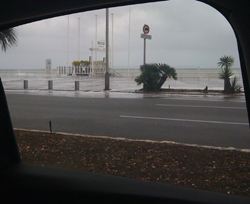 In Nice (left), not only the beaches were closed but also part of its famous Promenade des Anglais. The timing of the natural disaster – days before the opening of the tourist season – could spell economic disaster for the French Riviera. In Nice and Cannes, a state of natural catastrophe has been declared to speed up compensation claims for beach front restaurants, some of whom were forced to watch as 6-metre waves carried their sun loungers and other equipment out to sea, just days before the Film Festival and Grand Prix season.
In Cannes, an 11-year-old Australian girl was rescued from a catamaran which broke free from its mooring. Over 1,000 cruise liner passengers had to be driven by coach from Villefranche-sur-Mer to Toulon as the sea was too rough for them to return to the ship by tender.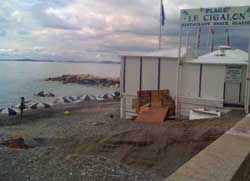 (left Cagnes sur Mer)
It took over 2 hours to travel by road from Nice to the outskirts of Cagnes sur Mer on Tuesday evening. At least the road was open whereas the carriageway nearer the sea was closed. This was for traffic heading towards Nice. Fortunately it was closed as in January this year heavy debris from the sea was being thrown onto the road.
According to a report on the Riviera Radio website on the 6th May "Beach clean-up operation - Across the Riviera, a massive clean-up operation is underway following Tuesday's 6-metre waves which wrecked beaches and seafront restaurants from Menton to La Ciotat. The mayor of Nice is meeting with beach bar bosses today and has promised to speed up the process of compensation.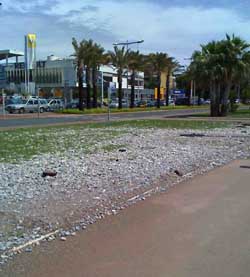 (left Cagnes sur Mer)
A state of natural catastrophe has been declared in Nice and Cannes and restaurant owners away from the coast are showing solidarity by lending equipment to their devastated colleagues, such as cutlery, furniture and washing machines. The president of the PACA region has promised a million euros in aid for affected establishments, many of whom had recently invested thousands in new materials for the start of the season. With the Cannes Film Festival and the Monaco Grand Prix both attracting hundreds of thousands of people to the Riviera next week, the disastrous phenomenon could not have come at a worse time for the local tourism industry."
Weather and marine experts have said that there was no record of a similar tidal wave on the Riviera, but more likely as a result of more than a week's torrential rain that had flooded the Var River and that the river had carried millions of tons of sand, mud and gravel debris into Antibes bay. This then caused a massive underwater landslide.
According to a report in The Guardian on the 5th May 2010 "Jean-Luc Passion, who runs a beach on the Croisette at Cannes, said local businesses would need back-up from the authorities . "[The festival] is important for the beaches, important for the town and important for the festival, so we will pull out all the stops to get it done. But I think everyone is going to have to help us," he told French radio.
Calling the storms a catastrophe, he said: "We are lost for words. [The waves] came very quickly. It was calm and then suddenly it started and we didn't have time to prepare." Locals agreed that the waves were the biggest seen on the Côte d'Azur for years, if not decades, and unusual at this time of year. "You have to go back to winter 1985 for waves this size," said Christian Estrosi, the rightwing mayor of Nice and the French industry minister. René Colomban, president of the Promenade des Anglais beach attendants' union, said he had not seen anything like it since 1959. In order to speed the compensation process, the mayors of both resort towns have asked for them to be classified officially as zones of natural catastrophe.
Around 15 beachside restaurants were badly damaged. As reports of damage also came in from Menton, near the border with Italy, and Saint-Raphaël and Cavalaire, officials expressed relief that there had been no casualties. Only one person in the town of Eze was known to have been hurt, while emergency services said they had had to rescue several people from the sea, including an 11-year-old Australian girl on her own n a boat. While May normally brings the onset of the fine summer months in the south of France, this year it has seen winds of up to 75mph hit parts of country near the Pyrenees and disrupt flights out of Montpellier. Yesterday, to the amazement of the south-western town's residents, snow fell in Carcassonne".
If you own a property in the south of France do make sure you have adequate property insurance.Find out more Here:
See also Flooding in the South of France - October 2010
Return to South of France Property News & Tips & Topics in France & Monaco
Other pages to see:
Advertise your French Holiday Home Property at jmlvillas.com

No Commission or booking fees for owners or renters
the low cost villa advertising service
-------------------------------------------
If you are looking for other properties in France and Europe's most popular destinations CLICK HERE
You will need Travel insurance for your holiday in the South of France and if you are renting a car don't rent before you take out a car rent excess policy


Car Rental - South of France

Do you own a Holiday Home in the South of France or Monaco? Is the insurance policy written in English? Find out more Here

Enjoy your stay in the South of France ....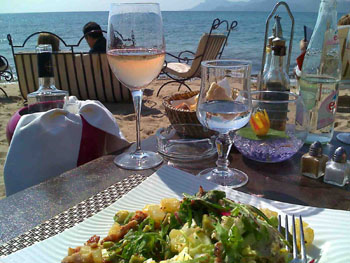 eat - drink -stay & wake up on the Riviera